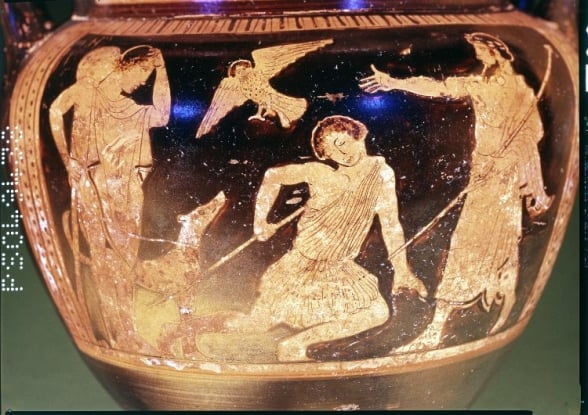 i1220
Céfalo, Prócris e Erecteu
-460 / -430
Cena de cratera-coluna ática de figuras vermelhas do Pintor de Hefesto.
Pottery: red-figured column-krater. (a) The death of Procris. Procris, in a short chiton which leaves her right shoulder bare, falls wounded to right, with her left hand and knee on raised ground with her right she vainly tries to pull out the spear which has pierced her beside the right breast; her head, en face, falls on her right shoulder, and her eyes are closed above her to the left, a Harpy (?) waiting for her soul. On the left, Kephalos with chlamys and petasos at back, resting right on a club, stands en face, looking on, beating his forehead with his left with a gesture of sorrow. His hound, which he holds by a cord round its neck, stands with nose raised, sniffing at Procris. On the right Erechtheus, the father of Procris, rushes forward, extending his right arm with a gesture of dismay; he is bearded and wreathed and has a mantle, and a sceptre along his left arm.
Imprenta
Ilustração nº 1220
publicada em 13/10/2016.
Como citar esta página:
RIBEIRO JR., W.A. Céfalo, Prócris e Erecteu. Portal Graecia Antiqua, São Carlos. URL: greciantiga.org/img.asp?num=1220. Consulta: 25/05/2018.
Portal
Grécia Antiga
ISBN 1679-5709
On-line desde 04/11/1997
Sobre o Portal
Ajuda
FAQs
Mapa do site
Termos de uso
10/11/2017
← novidades
Contato
Outras páginas do autor
Wilson A. Ribeiro Jr., 1997-2018
↑